Astronomy clubs in every country engage in public outreach, educating people while sharing their passion for the cosmos. But in developing countries, volunteer education programs quickly reach the limit of what local organizers can accomplish. Groups lack telescopes and books. With operations funded by volunteers, plans to expand activities are usually put on hold, leading to stalled momentum and volunteer burnout.
Through the generous support of donors, Astronomy for Equity provides resources to existing programs and supports experienced, eager volunteers. Donations provide revenue to sustain astronomy outreach operations and to transport equipment. Donated telescopes for astronomy clubs engender hours of public education programs. Most importantly, support motivates volunteers to do more, multiplying the impact of public donations.
In Libya, for example, science resources are badly needed after years of civil war. Students, teachers, amateur astronomers, and officials are mobilizing to provide science education to Libya's youth. A national astronomy organization has created astronomy clubs in middle schools across the country, but the basics of astronomy – telescopes – aren't available. Astronomy for Equity helps with this by providing telescopes to help inspire North Africa's next generation of scientists.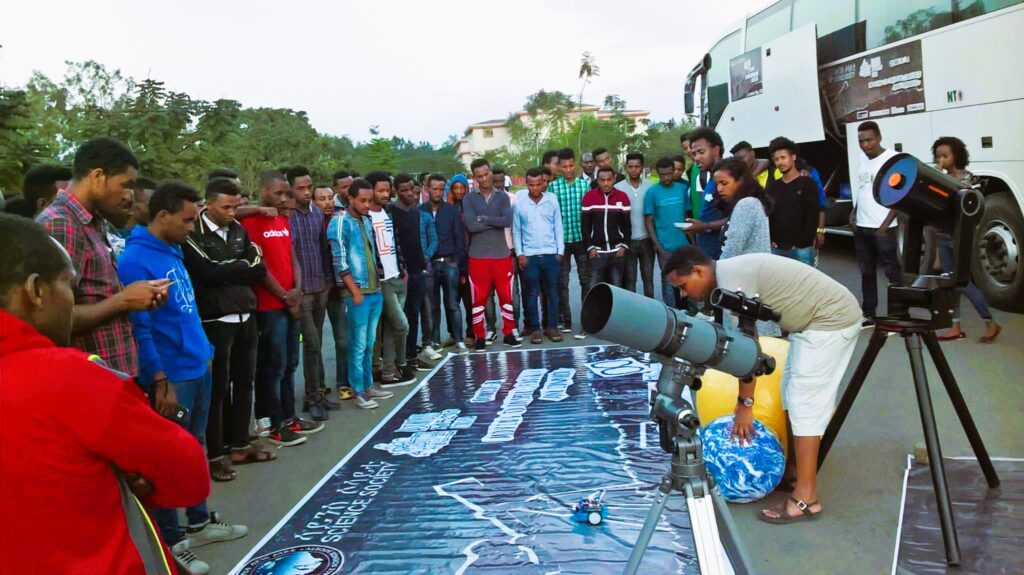 Sustainability is always a struggle for local volunteer programs, with needs far exceeding available resources. In Nigeria, for example, volunteers conduct regular astronomy-based STEM camps for girls. These volunteers also travel to refugee camps to teach STEM to children whose families have fled political strife. The priorities of these regional government agencies and foundations are constantly changing, however, causing instability that impedes growth in science education.
Astronomy for Equity collaborates with established programs such as these to give credibility to small, local efforts. The result is increased awareness through local media, and improved chances of gaining government and commercial support. These programs serve as models for further astronomy efforts in the developing world.
Be a part of it – Donate today.
Featured image: Astronomers Without Borders | Nigeria